Ovi D Pop – art light experiment
---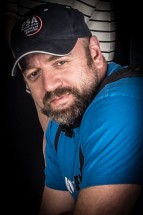 Ovi D Pop
EFIAP/b, EAAFR, ELITE IUP
I was born in Oradea on the 9th of April, 1973. I have been a photographer for over 20 years. I prefer portraits, nudes, aerial and street photography.
I had managed to issue six illustrated editions of the Bihor County monography, which contain about 1.000 photographs, illustrating the most representative sites in the county. I also issued six editions of the Travel Guide Book of Bihor County, two editions of the Oradea Mea album, Comitatus Bihoriensys album, many postcards, pocket books, which reflect his photographic activity.
In 2013 my photographic activity took a turn towards artistic photography and I managed to become a EAAFR (The Association of Romanian Artist Photographers) artist and E.FIAP/b artist (Excellence of the Fédération Internationale de l'Art Photographique), managing to obtain 430 prizes (102 gold medals/1st place/trophies, 35 silver medals/2nd place, 39 bronze medals/3rd place, 347 diplomas and honorable mentions) in 43 countries like Andorra, Greece, Ireland, Croatia, Cuba, Finland, Sweden, Montenegro, Slovakia, Ukraine, Serbia, Bosnia and Hertegovina, India, China, Hungary, Dominica, USA, Kosovo, Georgia, Bulgaria, Austria, Australia, Belgium, Macedonia, Egypt, Panama, Spain, Italy, Slovenia, Russia, Azerbaidjan and Romania.
I had several individual photography exhibitions in Oradea, Cluj Napoca, Valea lui Mihai, Hajduszoboszlo (Hungary) – 2013, 2014, Bruxelles – 2013, 2014, Cernăuţi (Ukraine), but also group photography exhibitions in Cluj Napoca, Bucharest, Szeged, Budapest, Bratislava, Kosice (Slovakia), Cernăuţi and Ujgorod (Ucraine), Chişinău (Moldavia), Kolkata and in Shenzen (China).
From 2016 I started the first authorized Photo School in Oradea with the authority of the Ministry of Work and the Ministry of Education from Romania.
Look at the photo gallery of his works, the most interesting and very specific way in which he sees the world around him !
---